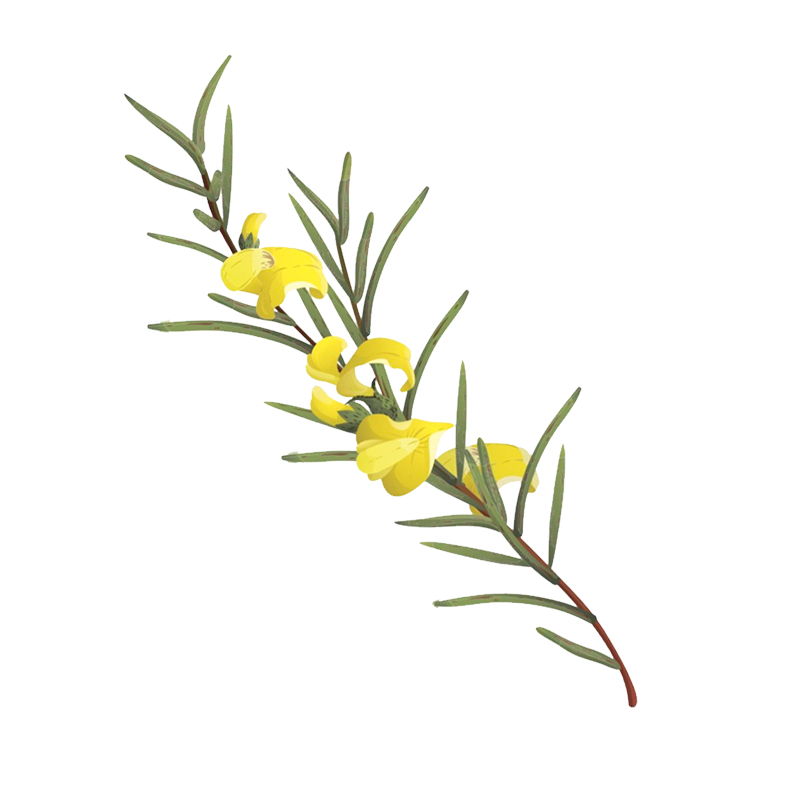 Studies have shown Potential Benefits:
Boosts immune, skin & hair health, anti-inflammatory, antioxidant, & anti-diabetic.
Rooibos Tea
(Roy-boss)
Rooibos is an herb native to South Africa. It's an evergreen rich in minerals and antioxidants.  When harvested and dried it can be brewed into a reddish-brown herbal infusion dubbed "African red tea" or "red bush tea" by the tea industry. 
Boosts immune, skin & hair health, calming inflammation, antioxidant, & helps to balance blood sugar.
https://pubmed.ncbi.nlm.nih.gov/25338943/ – antioxidants in Rooibos Tea have been shown to inhibit high glucose inflammation & help suppress vascular inflammation induced by high glucose.
https://pubmed.ncbi.nlm.nih.gov/19156714/ – Antioxidants: Rooibos has high levels of health-promoting antioxidants, which include aspalathin & quercetin. Antioxidants have been shown to help protect cells from damage by free radicals. Consumed over the long term, may reduce your risk of illnesses, such as heart disease & cancer. Rooibos is "the only known natural source of aspalathin, according to the American Botanical Council.
https://www.ncbi.nlm.nih.gov/pmc/articles/PMC6441828/ – 2019 study showed that it can protect the heart and blood vessels against toxicity and damage due to chemical exposure.
https://www.sciencedirect.com/science/article/abs/pii/S0944711313003140 – Rooibos (Aspalathus linearis) contains a rich complement of polyphenols, including flavonoids, considered to be largely responsible for its health promoting effects, including combatting obesity. Decreased leptin secretion was observed after rooibos treatment. Our data show that hot water- soluble solids from fermented rooibos inhibit adipogenesis and affect adipocyte metabolism, suggesting its potential in preventing obesity.
https://onlinelibrary.wiley.com/doi/full/10.1111/j.1742-7843.2006.pto_507.x -this study provides a scientific basis for the medicinal use of Rooibos tea in hyperactive gut disorders.
https://pubs.rsc.org/en/content/articlelanding/2016/fo/c5fo01222h/unauth#!divAbstract
Habitual tea intake has been associated with higher bone mineral density, particularly in postmenopausal women. This association may be due to its polyphenols and resulting protective antioxidant effects. While in vivo studies have shown improved bone outcomes with a consumption of individual purified tea polyphenols, it is unclear if a particular tea – due to its different profiles of polyphenols – is more beneficial than others. Green, black and rooibos tea improved osteoblast activity at the low level and support epidemiological evidence suggesting tea consumption may benefit bone heath.
https://www.lipoid-kosmetik.com/sites/default/files/files/PDF/en/Technical_Papers_Publikationen/13b_Rooibos.pdf – 36 references compiled on the positive impact of Rooibos with improved hair growth & skin care. (anti-inflammatory, anti-microbial, antioxidant)
https://pubmed.ncbi.nlm.nih.gov/25312795/ – study showed rooibos reduced  (attenuated) the induced liver injury.
https://link.springer.com/article/10.1007/s00394-006-0620-0#page-1 – Rooibos tea, has the therapeutic potential to be developed for congestive respiratory ailments.
https://pubmed.ncbi.nlm.nih.gov/23238530/ – researches have demonstrated that rooibos extract has hypoglycemic effect, the role of aspalathin, a main polyphenol in the extract, remains unclear. Our aims were to find specific mechanisms for anti-diabetic action of aspalathin. Aspalathin reduces the gene expression of hepatic enzymes related to glucose production and lipogenesis. These results strongly suggest that aspalathin has anti-diabetic potential.
https://kyushu-u.pure.elsevier.com/en/publications/effects-of-rooibos-aspalathus-linearis-extract-on-dryness-of-mout – Randomized, double blind placebo controlled cross-over trial. This clinical study demonstrated that rooibos improves dryness of mouth, eye and skin.
http://cms.herbalgram.org/herbalgram/issue59/article2550.html?ts=1591389511&signature=ff33ebd950a5257a09a2baf2bf2aba53 – Historical and Antioxidant impact of Rooibos Tea from South Africa.
http://cms.herbalgram.org/press/2008/clinicaltrialRooibos.html?ts=1591392680&signature=6bb6ae83bc47d7133e89c002ae6d1a2c – Cardiovascular Benefits of Rooibos
https://www.sciencedirect.com/science/article/abs/pii/S0308814610005923 –Blood levels of antioxidants increased by 2.9% when participants drank red rooibos and 6,6% when they drank the green rooibos. After consuming 17 ounces (500ml) the antioxidant level lasted for 5 hours.
https://pubmed.ncbi.nlm.nih.gov/20144258/ – Drinking rooibos tea may have beneficial effects on blood pressure by inhibiting angiotensin-converting enzyme (ACE). ACE indirectly increases blood pressure by causing your blood vessels to contract.  Rooibos tea inhibited ACE activity 30–60 minutes after ingestion
https://pubmed.ncbi.nlm.nih.gov/20833235/ – Consumption of fermented, traditional rooibos significantly improved the lipid profile as well as redox status, both relevant to heart disease, in adults at risk for developing cardiovascular disease. 40 overweight adults at high risk of heart disease, drank six cups of rooibos tea daily for six weeks & decreased "bad" LDL cholesterol while boosting "good" HDL cholesterol.
https://pubmed.ncbi.nlm.nih.gov/23238530/ – Rooibos tea is the only known natural source of the antioxidant aspalathin, which animal studies suggest may have anti-diabetic effects.
https://www.sciencedirect.com/science/article/abs/pii/S0944711308002213 – One study in mice with type 2 diabetes found that aspalathin balanced blood sugar levels and reduced insulin resistance, which could prove promising for people who have or are at risk of type 2 diabetes.
https://www.sciencedirect.com/science/article/abs/pii/S0963996913000653 – Potential Bone Health