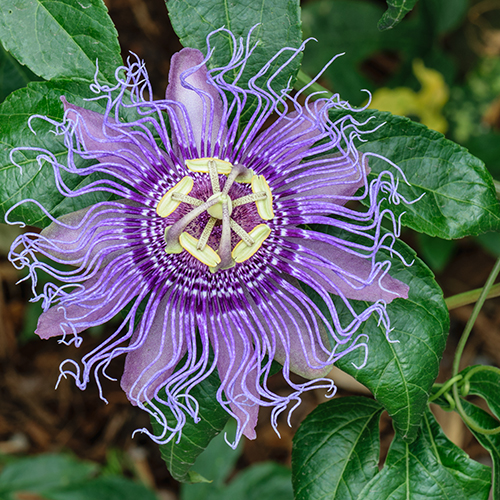 Studies have shown Potential Benefits:
May help Improve Sleep

May help Reduce Inflammation

May help Soothe and Calm Anxiety

May help Reduce Stress

May help Balance Blood Sugar

May help Reduce the effects of Menopause

May help Soothe Stomach

May help with Attention-Deficit Hyperactivity Disorder

May help Promote Calmness, Balance, and Wellbeing
Passion Flower
Botanical Name: Passiflora incarnata 
What is it?
Passion Flower (Passionflower) is a climbing vine renowned for its beautiful white flowers with purple, blue, or pink calyx crown blooms. The plant is native to North, Central and South America. Sixteen-century Spanish explorers were introduced to Passion Flower in Peru where the indigenous people used it as a mild sedative. The leaves, stems, and flowers are the best for herbal medicinal purposes. Passion Flower works by boosting Gaba, a neurotransmitter which slows down brain activity helping to calm anxiety or insomnia. 
Passion Flower is in the category of herbs known as a nervine. (A nervine herb acts on the nervous and limbic systems to reduce overactive stress responses and return the body to resting, relaxing, digesting, sleeping phase. Nervines work gently to re-establish normal nerve function and balance.) It's been reported that Passion Flower has the most sedating effect of all nervine herbs. 
Passion Flower is known as a Hypnotic Herb that is relaxing, a Sedative Herb and an Antispasmodic Herb that helps relaxes the muscles and an Anxiolytic Herb that inhibits anxiety.